Fishing boat finds 'torpedo' in Firth of Forth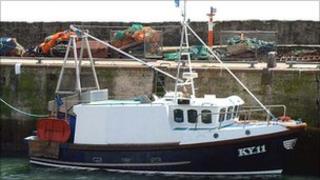 A fishing boat has picked up a suspected torpedo in the Firth of Forth.
The crew of the Sea Spray called the coastguard shortly after 0800 BST to report the discovery.
Her skipper was told to tow the device to deep water off Port Seton and drop it on the sea bed for the Navy's explosive ordnance disposal team.
Forth Coastguard said it was thought to be a new torpedo but stressed there was no cause for alarm.