Beltane Fire Festival celebrates return of summer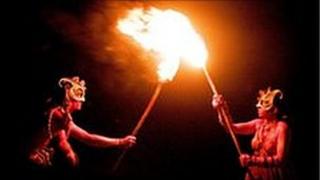 Hundreds of people are expected to turn out to watch the pagan-inspired Beltane Fire Festival.
The annual event on Edinburgh's Calton hill, symbolises the beginning of summer and celebrates an ancient Celtic festival.
Organised by the Beltane Fire Society, the festival includes a torchlight procession, drummers and acrobats.
Since its modern beginnings in the 1980s, the festival has grown to involve about 300 participants.