Edinburgh Zoo investigated by charity watchdog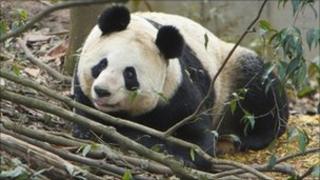 Edinburgh Zoo is being probed by Scotland's charity regulator following the suspension of senior managers.
The Office of the Scottish Charity Regulator (OSCR) is holding an inquiry into the Royal Zoological Society, the charity that runs the zoo.
It comes after the BBC Scotland news website revealed two giant pandas were due to arrive in Edinburgh in July.
Iain Valentine, who was instrumental in the zoo's efforts to bring the pandas to Scotland, was suspended last month.
He left amid investigations into what officials described as matters of a very serious nature.
The zoo's chief operating officer, Gary Wilson, was suspended in March.
It is understood the zoo's director of development, Anthony McReady, has left the organisation.
Mr Valentine and Mr McReady had been helping to run the zoo while a separate inquiry continued into allegations against Mr Wilson.
The zoo has previously moved to dismiss fears that the deal to bring the pandas to Edinburgh could be affected by the suspension of senior managers.
Pandas Tian Tian and Yang Guang, who were both born in 2003, are being brought to Edinburgh under a historic agreement with China.
They will be the first giant pandas to live in the UK for 17 years.
The pandas will be housed at Edinburgh Zoo under the custodianship of the Royal Zoological Society of Scotland (RZSS).
It is understood that they will be brought from China on a special jet to Edinburgh Airport in July before being transported to Edinburgh Zoo.
An OSCR spokesman said: "I can confirm that OSCR currently has an open inquiry into The Royal Zoological Society of Scotland."