Edinburgh trams: More than 80% of budget already spent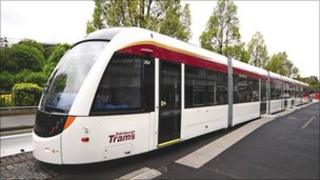 More than 80% of the total budget for the Edinburgh tram project has already been spent, it has emerged.
A report published by Edinburgh City Council said work so far had cost £440m when the entire budget for the scheme is £545m.
The report also confirmed up to 10 of Edinburgh's unused tram vehicles could be leased to Transport for London to be used on the Croydon Tram Network.
Officials said they would not be needed in Edinburgh for "several years".
Following completion of mediation over the controversial project, Edinburgh City Council announced on Wednesday it was to close Princes Street from July until next spring to allow works on the tram line to be repaired.
Fireworks display
The council said work had resumed in the areas around the tram depot at Gogar and at Haymarket.
The tram company Tie and the multinational consortium building the line, Bilfinger Berger and Siemens (BBS), have been locked in a bitter dispute as costs rocketed and delays mounted.
The council's chief executive said it was still not known how much the project would finally cost, where the line would run to and when the service would start to operate.
Officials said Princes Street, which is already closed to cars, would shut to buses from 3 July.
It will be reopened on Sunday 4 September for the fireworks display marking the end of the Edinburgh International Festival before closing again.
The street will also be opened over the Christmas and New Year Festive period between 26 November this year and 6 January 2012.
The remedial works are planned to end by April next year.