Climbers flock to European Youth Championships in Ratho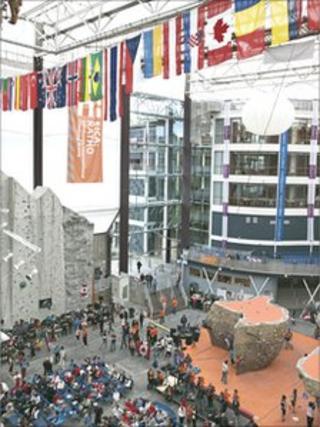 Some of the top climbers from across Europe are taking part in the European Youth Championships on the outskirts of Edinburgh.
Up to 250 climbers from 25 different nations are competing for podium positions on 'The Hanger', 'Speed Wall' and the 'North West Wall'.
Each event will have a variety of categories including age, gender and discipline at the EICA in Ratho.
The event runs until Sunday at 1545 BST when the award ceremony takes place.
Graeme Gardiner, Edinburgh Leisure's head of Edinburgh International Climbing Arena (EICA), said: "We are delighted to be hosting this exciting event at the EICA:Ratho and look forward to welcoming the cream of European youth climbing talent to our arena once again.
"It's guaranteed to be a fantastic event where junior climbers can test their skills on our world-class facilities."
Last year, the EICA hosted the World Youth Championships, where about 450 of the world's top young competition climbers from 40 countries around the world descended on the Edinburgh International Climbing Arena.