Attacker returns for dinner after takeaway robbery bid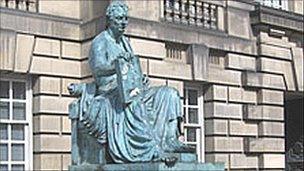 A robber returned to order his dinner from a Chinese takeaway an hour after holding it up and assaulting a worker, a court has heard.
Thomas Aitken, from Leven, carried out the attack with a fake gun at the China Chef Takeaway in Kennoway, Fife, on 30 December 2010.
The High Court in Edinburgh heard the 21-year-old also hit a woman with an axe on the head two weeks earlier.
Judge Lady Clark of Calton deferred sentence on Aitken for reports.
The court heard that after making his demands for cash, an empty-handed Aitken hit employee Jin Tian Chen as he left the takeaway.
He then returned about an hour later to get food while police were still investigating the crime.
Aitken had ditched a black hooded top he had worn during the attempted robbery and was not immediately recognised as the raider.
Advocate depute Martin Macari said: "He indicated he only wanted to order his 'tea', and placed an order for a meal.
"Officers subsequently viewed CCTV footage which showed the culprit outside the premises at the time of the incident, with a dog," said the prosecutor.
He added: "The officers realised that this dog appeared identical to the dog with the male who had attended at the takeaway and ordered the meal."
Aitken also admitted assaulting a woman to her severe injury, to the danger of her life and permanent disfigurement in an axe attack at a flat at Denvale Gardens, Kennoway, on 8 December 2010.
The victim, Kay Fleming, 30, suffered a skull fracture and blood on the brain and had to undergo surgery as a result.
The attack happened while Miss Fleming and her boyfriend were at home.
She responded when Aitken knocked at their door. However, the court was told that a confrontation developed and she was struck on the head with the flat side of the axe.
She was taken to Queen Margaret Hospital in Dunfermline where she was found to have a deep laceration through to the skull.
She later underwent surgery and had metal brackets inserted into her head.
Mr Macari said: "The injury itself was not, as a matter of fact, life threatening but striking someone on the head with an axe with sufficient force to cause a skull fracture could endanger life."
He said that Miss Fleming was expected to make a full recovery, although she would be left with a scar.
Related Internet Links
The BBC is not responsible for the content of external sites.