Scottish SPCA cares for storm-blown chicks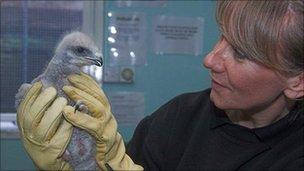 The number of young birds being cared for by a wildlife centre has tripled since severe storms earlier this week.
More than 300 chicks and fledglings are in the care of the Scottish SPCA's Wildlife Rescue Centre in Fife after high winds hit Scotland on Monday.
Many of the birds, including tawny owl, long eared owl and buzzard chicks, were blown out of their nests.
The charity said some of the birds had been blown far from their nests or suffered injuries.
Colin Seddon, manager of the rescue centre, said: "Almost all of the birds that have come into our care this week were blown out of their nests.
"The strong winds came at a really bad time of year as many fledglings have just hatched in nests at the top of trees.
"These were really severe weather conditions and in some cases the fledglings had been blown far from their nest or had suffered injuries."
Earlier this month the Scottish SPCA said its centre had been inundated with healthy baby birds handed in by worried passers-by.
Mr Seddon added: "Other than in extreme weather like we experienced this week, we would still advise people to leave fledglings alone unless they are in immediate danger."
The charity said people concerned about an injured or orphaned chick should call its animal helpline on 03000 999 999 for advice.
Related Internet Links
The BBC is not responsible for the content of external sites.