Missing pet Burmese python found in its Leven home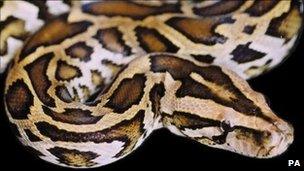 A 12ft (3.7m) Burmese python that sparked a police hunt after apparently escaping from its home in Fife has been found.
Fife Constabulary said the pet snake, which went missing at a property in Leven on Friday, was "traced safe and well within the owner's house".
The owner had previously reported it missing to the police.
The Burmese python, which is not venomous, would normally feed on birds and small mammals in the wild.
Leven residents were asked to keep a look out for the animal in their gardens, but not to approach it.
Related Internet Links
The BBC is not responsible for the content of external sites.