Swine flu FAI told virus 'was missed by doctor'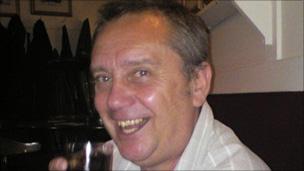 A fatal accident inquiry into a Scottish swine flu death has heard the victim told his family his GP had diagnosed him with seasonal flu.
Bill Anderson, 53, from Fife, was the first Scot to die who was not suffering from a pre-existing health condition.
His wife Linda told the inquiry at Dunfermline Sheriff Court he was sent to hospital by NHS 24 in September 2009 but was diagnosed with seasonal flu.
But Mr Anderson's doctor told the FAI he had diagnosed swine flu.
Mr Anderson, a former RAF medic from Kirkcaldy, died four days later.
He fell ill on 4 September 2009 shortly after returning from Tenerife with his wife.
The next day he called NHS 24 who advised him to see a doctor in Kirkcaldy's Victoria Hospital.
Mr Anderson was given a prescription and spent the next few days in bed but his condition worsened.
His daughter called 999 and he was taken to the Victoria and then transferred to Queen Margaret Hospital in Dunfermline where he later died.
Speaking at Dunfermline Sheriff Court, Mrs Anderson said her husband called NHS 24 because he thought he had symptoms of swine flu and was told to go to hospital.
She said: "He saw an out of hours doctor at 6pm. He came back quite the thing and said 'I'm really pleased, it's just flu'.
"He thought, well, the doctors know best, so it must just be the flu.
"They gave him antibiotics and anti-sickness tablets and said to keep drinking plenty and to rest in bed."
Mrs Anderson, 58, said her husband continued to feel ill and she urged him to go back to the doctor, but he said he wanted to give the antibiotics a chance.
She said: "He looked ghastly and was staggering, suffering from sickness and diarrhoea.
"His breathing worsened on the Saturday. I could hear rattling in his chest when I was in bed beside him - it was a horrible noise."
She said her husband "went downhill" until in the early hours of the morning he told her: "I need to go back to hospital. I think I've had a stroke. I think I'm going to die."
Mrs Anderson said: "I started to get up and pull his clothes on and he fell back on my arm and fell unconscious. He never regained consciousness."
Mr Anderson was taken to hospital where he was diagnosed with the H1N1 strain of swine flu.
Asked by procurator fiscal Brian Robertson what she would think if the GP, Dr John Barron, had in fact noted swine flu in his medical notes, she said: "He should have told my husband, because he wouldn't have come back to his daughter who was eight months pregnant."
Cross examined by advocate Isabella McKerrow, representing the Anderson family, Mrs Anderson was asked if there was any reason her husband would have kept it a secret from her if Dr Barron had told him it was swine flu.
She said: "He was relieved he only had the flu. There was no reason he would lie to me."
Dr Barron, giving evidence, said he had encountered hundreds of patients with swine flu in the months surrounding Mr Anderson's death.
The locum GP, who worked for NHS Fife, said he could not remember meeting Mr Anderson, but said he was referred to the Victoria Infirmary by NHS 24's dedicated flu-line and his computerised medical notes indicated he had diagnosed swine flu.
He said he could think of no reason why he would not have told Mr Anderson his diagnosis.
He said he was told of Mr Anderson's death the following month when police visited him, and he was "shocked".
Mr Robertson asked: "You put down the diagnosis as probable H1N1 - did you tell him?"
Dr Barron replied: "Yes I did. I put down the diagnosis - I normally tell people what that diagnosis is."
He said he had ruled out prescribing Tamiflu as Mr Anderson had been suffering symptoms for more than 48 hours.
The court had earlier heard from pathologist Dr Ibrahim Nawroz, who had conducted a post-mortem examination on Mr Anderson, who said he had died from swine flu, which caused adult respiratory distress syndrome, affecting his lungs.
He added there were no other contributory factors.
The inquiry, before Sheriff Craig McSherry, continues.