TV digital switchover gets under way in east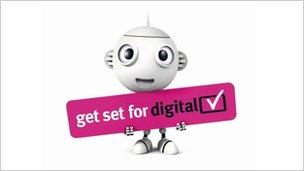 The digital switchover has got under way in Edinburgh, Lothian and parts of Fife, as analogue signals are turned off and digital TV is boosted.
The penultimate switchover in Scotland means that nearly 24,000 viewers in digital blackspots will be able to get Freeview for the first time.
Those areas include Kinross, West Linton and Penicuik.
The change requires Freeview users to retune their TVs and boxes to regain missing channels.
Switchover began in the early hours when analogue BBC Two was permanently turned off at the Craigkelly transmitter.
The Craigkelly switchover will be completed on 15 June, when the remaining analogue channels will be switched off.
Related Internet Links
The BBC is not responsible for the content of external sites.