Edinburgh Jazz and Blues Festival moved forward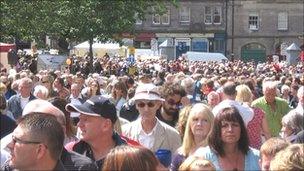 The Edinburgh Jazz and Blues Festival has been moved ahead of the city's August festivals in a bid to give it more "focus".
The UK's oldest jazz festival will host its 33rd event between 22-31 July with 90 concerts being held in the city.
Stars include Jack Bruce, Courtney Pine, Robert Cray, Curtis Stigers, Ken Peplowski, Leroy Jones and Trombone Shorty.
There will also be a homage to the music of saxophone star Stan Getz.
There will be specially commissioned concerts highlighting Getz's role in big band music, bossa nova and third stream jazz/classical crossover, and work from his album "Focus", played by saxophone star Konrad Wiszniewski.
The event will also include musicians from New Orleans, collaborations with India and Italy, a spotlight on the Swedish jazz scene (including Magnus Ostrom's Band, and Lina Nyberg singing offbeat West Side Story) and a Scottish Jazz Expo line-up.
The festival covers every style of jazz from 1917 to 2011, including music made famous on 33rpm records.
The opening weekend includes the Mardi Gras in the Grassmarket, which includes three hours of music on multiple stages.
Related Internet Links
The BBC is not responsible for the content of external sites.