Life term for Samantha Wright body-in-bin murderer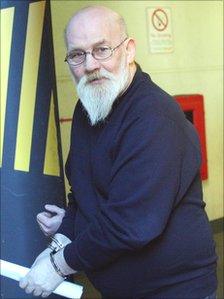 A man has been jailed for life for murdering a woman in Edinburgh and dumping her body in a wheelie bin.
Robert Chalmers, 59, was sentenced to a minimum of 23 years in prison before he can apply for parole.
He had denied killing Samantha Wright, from Hertfordshire, and hiding her remains at his Edinburgh home, in Magdalene Drive, in June 2008.
He was sentenced at the High Court in Edinburgh after being found guilty last month following a trial.
Miss Wright's mother, Catherine Gibson, 48, from Stevenage, Hertfordshire, said as she left court: "We hope he never gets free. I wouldn't want any other family to go through this.
"I am pleased about the sentence length but they should bring back hanging."
"If somebody is proven to have taken somebody else's life, their life should be taken away from them."
Miss Wright's father, Jeremy Wright, 49, said Chalmers had treated his daughter "like a piece of garbage."
Wood machinist Mr Wright said: "If that is his mentality then he doesn't deserve any sympathy.
"I have feelings against capital punishment but, in this case, yes. For what he did to Samantha, he deserves it."
They said the three years since they reported their daughter missing had been worse than a nightmare.
It was the second time Chalmers had been found guilty of murder.
He has already served nine years of a life sentence imposed for a murder in Renfrewshire in December 1973.
Chalmers had stabbed drinking friend William White, 47, after a row in Mr White's home in Beech Road, Johnstone.
After his release, Chalmers, a handyman and labourer who once worked making children's playgrounds, eventually came to live in the Duddingston area of Edinburgh.
Ms Wright, who was from Stevenage but had been living in Edinburgh, was reported missing by her family in January 2009, on what would have been her 25th birthday.
Her body was found nine months later by police.
Judge Lord Malcolm said Chalmers was guilty of a "depraved and dreadful" crime.
He said: "No words of mine can adequately convey the grief and devastation which you have caused to her family and to her many friends.
"Throughout, you have expressed no guilt, remorse or contrition.
"It was only through skilled and dedicated police, forensic and legal work that you were brought to justice. All those involved in that deserve great credit.
"Because of the consequences of the passage of time, unless and until you give a truthful account, we will never know exactly what happened that night.
"However, your conduct after Samantha's death satisfied the jury that you are guilty of murder and it satisfies me that this was a depraved and dreadful crime."
Det Ch Insp Richard Thomas, of Lothian and Borders Police, said: "The sentence that has been handed down today reflect the wickedness of the crime committed by Robert Chalmers, who by his actions has shown that he is nothing more than a brutal and cold-hearted killer.
"He took the life of a sociable but vulnerable young woman, and nothing can make up for the pain and distress that his actions have caused to Samantha's family, who have carried themselves with dignity throughout what has been a harrowing ordeal.
"It is my hope that they can draw some comfort from the sentence that has been handed down."
Related Internet Links
The BBC is not responsible for the content of external sites.