Mounted police for Edinburgh Airport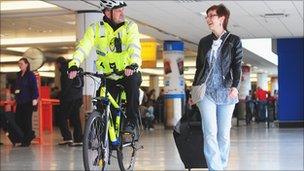 Police based at Edinburgh Airport have started patrolling on bikes.
Edinburgh Airport said the mounted officers would be able to patrol the airport campus more "effectively and efficiently".
Kevin Brown, the airport's managing director, said: "We're delighted at this new initiative and I think our passengers will respond positively.
"Getting the officers out of their cars promotes faster response and will make for easier face to face interaction."
Related Internet Links
The BBC is not responsible for the content of external sites.