Staff hand wash warning at Victoria Hospital, Kirkcaldy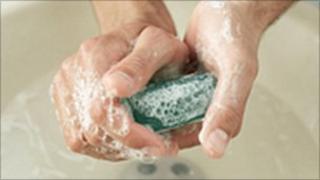 Staff at a Fife hospital have been told to clean their hands more often to reduce the risk of infection.
Victoria Hospital in Kirkcaldy was given the recommendation following an unannounced inspection on 20 April.
The visit was made by the Scottish government's Healthcare Environment Inspectorate.
Inspectors found the hospital to be generally clean and hygienic but said there were some areas for improvement, including hand hygiene.
Susan Brimelow, HEI chief inspector, said: "Overall we found that NHS Fife is working towards complying with healthcare associated infection standards to protect patients, staff and visitors from the risk of acquiring an infection.
"Our inspection highlighted a number of areas of good practice including good involvement of the public in infection control activities.
"However there are areas for improvement including staff compliance with hand hygiene.
"We expect that all requirements and recommendations will be addressed by NHS Fife, and the necessary improvements made, as a matter of priority."