Edinburgh Zoo panda cage planning blunder stops work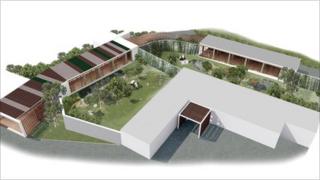 Edinburgh Zoo has been forced to stop work on part of its new panda enclosure because it does not have planning permission.
The zoo conceded it should have made an application weeks ago and that a mistake had been made.
Chief executive Hugh Roberts, who was appointed recently, took responsibility for the error.
He said the zoo was to make all necessary efforts to get the building work going again.
The blunder follows recent suspensions at the zoo and a vote of no confidence in ex-chair Donald Emslie.
Iain Valentine, director of animals, conservation and education, is currently suspended and a probe into his case continues.
Gary Wilson, the zoo's chief operating officer, was also suspended but has returned to work as director of business operations after an investigation cleared him of any wrongdoing.
Two pandas, Tian Tian and Yuang Guang, are due to arrive from China later this year.
About £250,000 is being spent creating a perfect home for the pair. It will have pools, caves, climbing structures and even its own nursery.
Both pandas have successfully bred before and it is hoped they could produce further offspring.
It is expected the pandas will generate huge public interest and the new enclosure has been designed to accommodate 600 spectators per hour.
Each panda will have its own space because they are solitary animals in the wild and only come together to breed.
Hugh Roberts, chief executive of the Royal Zoological Society of Scotland, which runs Edinburgh Zoo, said: "While in an ideal world all of these aspects of the project would have been addressed at an earlier stage, it is widely known that the society has been through a difficult time in recent months.
"We have found ourselves in a position of limbo due to circumstances no-one could have foreseen, and in such circumstances mistakes can be made.
"We are making progress in putting the society's house in order and we will be taking whatever steps are necessary to restore our reputation as we move forward."