Mandy Haeburn-Little to leave Edinburgh Trams project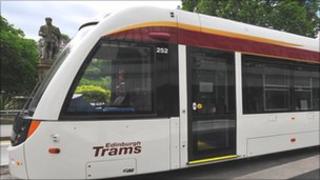 Another official is to leave the company running the Edinburgh Trams project.
Mandy Haeburn-Little is to step down from her post as Tie director of communications and customers services in July, after two years in the post.
Richard Jeffrey, 44, chief executive is leaving on Wednesday having worked for the company for two years.
The previous chief executive, Willie Gallagher, also resigned after two years.
The announcement follows a dispute between Tie and its contractors Bilfinger Berger, which has halted work on the £545m project.
Work is now due to re-start in September.
Gordon Mackenzie, Edinburgh City Council's transport convener, said: "Mandy has played an invaluable role in building and sustaining stakeholder relationships particularly with the business community.
"While the project has had a torrid time over the past two years it is widely acknowledged that her skilled and professional approach made a positive difference to how the project engaged with its supporters and critics alike."
Ms Haeburn-Little said: "I have lived and breathed trams for two years now and, whilst there will never be an entirely ideal time to move on, I believe this is the right juncture."