Murder trial hears wife 'accepted' husband's affair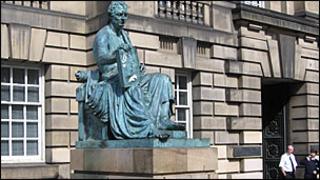 A murder trial has heard claims that the victim accepted her husband's affair with a woman who lived in their garden shed.
Rita Heyster denies killing Carol Jarvis, 47, at the Bathgate family home and hiding her body in the basement.
Harry Jarvis, 61, was said to have written to his daughter saying his wife told him to go off with Ms Heyster rather than be unhappy.
Ms Heyster, 57, has launched a special defence blaming Mr Jarvis.
Mr Jarvis' daughter Kimberley, 20, said the letter from her father, on prison notepaper and dated September 19 2009, was sent to her address in Dundee, where she is studying psychology and philosophy.
"I am innocent. I would never hurt your mum," it said. It promised a full explanation when he next saw her.
He said his wife had accepted his affair with Ms Heyster.
"Your mum said to me just over a week ago that she loved me so much she would let me go off with Rita rather than be unhappy," the letter said.
"I told her not to be stupid. After 30 years we work together and sort it all out."
The jury at the High Court in Edinburgh also heard from neighbour, Jacqueline Stewart, 49 - who said Carol was her "best pal".
'Snapping neck'
She described life in the Jarvis household.
Mrs Stewart said that both Carol Jarvis and her husband - who Mrs Stewart knew as James - told her intimate details of their lives and loves.
But she described Mrs Jarvis as "naive" and denied she had ever discussed kinky games such as "sexual strangulation."
She said that Mrs Jarvis - who had suffered for years from a series of complicated medical problems - was "besotted" with her husband and always took him back after he had flings with other women.
Mr Jarvis, she told the court, had said on a number of occasions that it would be easy to kill his wife by "snapping her neck" and disposing of the body in woods or in a wheelie bin.
Mrs Stewart said Mr Jarvis had also talked of killing her own husband, Gordon, during role-playing games.
She told solicitor advocate Ray McMenamin, defending, that despite the talk she remained friendly with Mr Jarvis.
'Means unknown'
Heyster, from Livingston, West Lothian, denies murder and attempting to defeat the ends of justice by trying to cover up the crime.
It is alleged that between September 11 and September 15 2009 at Balbardie Crescent, Bathgate, she and Harry Jarvis, murdered his wife, Carol, "by means unknown".
Then, it is claimed, they failed to notify the authorities of the death, wrapped the dead body in a blanket and hid Mrs Jarvis in the basement of the house.
The trial is expected to last about four weeks.