Cash seized from Chinese student at Edinburgh Airport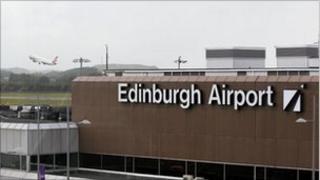 A Chinese student has had more than £100,000 confiscated from her, the Crown Office has confirmed.
Weimei Zhong, 22, a student at Heriot Watt University was stopped by UK Border Agency officials at Edinburgh Airport in April.
She was found with "very large sums" of euros and US dollars, including 500 euro notes, which are known to be used by so-called "cash-mules".
Ms Zhong was then unable to offer a "reasonable" explanation for the money.
In total, 119,725 euros (£104,855) and $5550 (£3413) were confiscated from her under the Proceeds of Crime Act 2002.
She has not been arrested in connection with or convicted of an offence, the UKBA said.
But under the act, authorities can seize money from individuals without a criminal conviction.
'Cash couriers'
Money recovered under the Proceeds of Crime Act is given to community projects by the Scottish government.
So far, more than £41m has been invested in a range of free activities for young people.
Malcolm Bragg, assistant director of UKBA, said: "The forfeiture of these very large sums of money demonstrates the determination of UK Border Agency officers to detect cash couriers entering the United Kingdom.
"Other individuals attempting to bring substantial sums of cash into the country, without making the required declarations and seeking the appropriate authority, will be dealt with similarly."
Ruaraidh Macniven, from the Crown Office and Procurator Fiscal Service, (COPFS), said: "The Civil Recovery Unit, working in conjunction with its various law enforcement partners, is resolved to use the civil provisions in the Proceeds of Crime Act 2002 in order to disrupt criminal activity in Scotland at all levels."