Susan Boyle thief is fined £70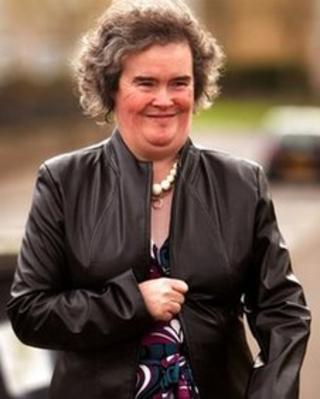 A teenager has been fined £70 after he stole £9 from Susan Boyle's home in West Lothian.
Scott Millar, 17, was also ordered to give the singer back her stolen change.
Livingston Sheriff Court heard the star was returning to her house in January 2010 after recording a single in London when Millar rushed past her as she opened the door.
The court heard she was left "terrified" and "hysterical" following the incident.
Afterwards Millar was told to make a donation to the singer's favourite charity.
But instead he was put on probation last month after he spent £100 meant for the charity on doing up his new flat.
Sheriff Ian Duguid QC said he would bring the case to an end by imposing the £70 fine.
He also ordered Millar to pay £10 compensation.
At an earlier hearing, Millar, had pleaded guilty to entering the house uninvited, wandering through Miss Boyle's home, looking in rooms, and taking the money from a pair of trousers that he had knocked off a chair in her bedroom on 26 January last year.
He could not be charged with breaking and entering because it could not be proved that Miss Boyle's door was locked.
The Britain's Got Talent star, 50, had just returned to her house in Blackburn, West Lothian, after a trip to London.
She then went out to visit a friend, and when she got back to her house, she found Millar running down her stairs.
John Barclay, prosecuting, said Millar "rushed past" the singer and out of her front door.
Mr Barclay said Miss Boyle, whom he described as "the celebrated singer", was "clearly distressed".
He said there was no sign that Miss Boyle's door had been forced, although her recollection was that she had secured it.
As well as taking the money, Millar had left dirty footmarks all over her living room carpet.
'Friend's dare'
The court heard Millar "seemed to enjoy the cachet of having committed this offence" and bragged to friends about the incident.
Afterwards Miss Boyle said: "I'm not going anywhere. No one's pushing me out of my house."
Millar's lawyer Darryl Lovie said the crime had begun as a "dare".
He said: "He foolishly accepted his friend's dare of knocking on the front door, which was very slightly ajar."
Miss Boyle recently said she felt that remaining in her home town had allowed her to "stay grounded" despite her fame.
Her first album, I Dreamed A Dream, sold more than 12 million copies worldwide, making the singer worth an estimated £11m.
Her second album, The Gift, went on sale last November.
In August last year, the singer moved out of the house where the incident took place, and moved into a house just round the corner, but later moved back, saying she missed her childhood home.