Edinburgh Airport voted best in Europe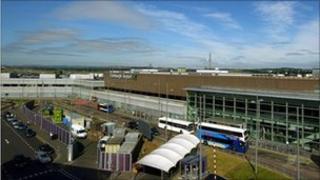 Edinburgh Airport has been voted Best European Airport of its size at an award ceremony in Lisbon.
The airport was singled out by judges for the "dedication of its management and staff" and "excelling in all the key areas of operations".
An airport spokesman said the ACI Europe award showed it was one of the leading airports of its class.
Other airports in Edinburgh's size group include Cologne, Birmingham, Luton, Nice, Marseille and Milan.
They fall in the group of 5 million to 10 million passengers
Airport managing director Kevin Brown said: "This is a fantastic boost for Edinburgh Airport and all those that work here.
"The past year has been challenging to say the least and I'm particularly pleased that the team was singled out as being the factor that secured us this prestigious award."
The ACI (Airport Council International) Europe Best Airport Awards cover four categories of airport and aim to recognise achievement in core activities such as customer service, retail, security and environmental awareness.