Benefits scam police officer, Colin Burgoyne, sentenced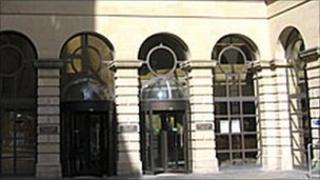 An ex-policeman who conned the benefits system of £16,000 to pay for his children to go to private school has been given 150 hours community service.
Colin Burgoyne, 48, from Edinburgh, initially legitimately claimed child tax credit to pay for nursery but when they left he carried on claiming.
Edinburgh Sheriff Court heard Burgoyne scammed £11,341.69 one year and £5,197 the second year.
Burgoyne admitted the offence that was between April 2006 and September 2007.
Burgoyne, a police constable, retired from service in April this year.
Health difficulties
Burgoyne, whose time with the police force included at stint at Edinburgh Sheriff Court, was initially accused of scamming £35,662.26 from the benefits system between 2002 and 2007 but the Crown accepted his guilty plea to a lesser amount in a smaller time frame.
His wife Kathleen Burgoyne, 46, was also initially charged but was later dropped from the complaint.
The court heard the matter was brought to light through an anomaly which was discovered through a cross-referencing exercise.
Defence agent David O'Hagan said: "He worked as a police officer for 30 years and has now retired and is receiving a pension.
"He was entitled to the payments in respect of the children but the circumstances changed and the payments went from being applicable to inapplicable and he did nothing to check this or contact the benefits agency and he admits that it was his responsibility to do that.
"He has fairly difficult domestic circumstances, he cares for his wife, who has considerable health difficulties and their four children."
The court heard that a small amount, £1423 of the £16,538 taken had been repaid.
The lawyer added that Burgoyne was in a position to pay back the rest within a month.
Sheriff Neil MacKinnon told Burgoyne it was a serious offence but that in the circumstances he was prepared to impose community service as an alternative to custody.
He reduced the amount of hours from 200 to reflect Burgoyne's guilty plea.
Burgoyne declined to comment as he left court.