Warning over railway track vandalism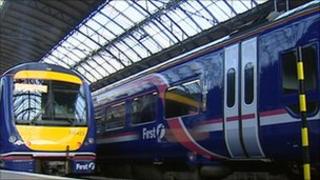 British Transport Police have warned people to stay away from railway tracks after a number of incidents where objects were left on lines.
On 10 July a train struck a mountain bike, believed to have been deliberately placed on the railway line near Livingston North station.
The train was undamaged and completed the journey.
On the same day, another train struck a shopping trolley between Dunfermline and Rosyth stations.
Police said that the window of a train travelling between Glasgow Queen Street and Edinburgh Waverley stations was broken on Tuesday 12 July, when it struck a wheelie bin placed on the line at Winchburgh.
A Dunblane-bound train from Edinburgh had struck the wheelie bin shortly before.
And officers said that children, believed to be aged as young as six or seven-years-old, were seen on the railway line near Wishaw station, at about 1410 BST on Tuesday 12 July.
Shortly before, the driver of the 1242 Milngavie to Lanark service reported striking a metal bed frame in the same area.
'Great danger'
Inspector Sue Maxwell, of British Transport Police, said: "Unfortunately at this time of year when the school holidays have started we tend to see an increase in route crime offences reported.
"The foolish individuals who trespass, place obstructions on the line, throw stones at passing trains or vandalise the railway infrastructure put themselves and others in great danger.
"I would appeal to anyone, including parents, to think seriously about your actions, and stay well away from the railway."