Scottish SPCA inundated with seal pups in Fife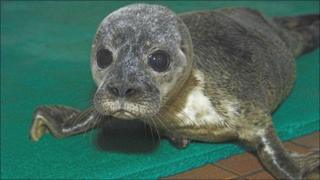 The Scottish SPCA has experienced its busiest season to date caring for injured and orphaned harbour seal pups.
The charity's Wildlife Rescue Centre in Fife is currently caring for 14 young harbour seals and one grey seal.
Last year the charity cared for 15 harbour seals but already this year they have been looking after 23.
A new Scottish SPCA wildlife rescue centre in Clackmannanshire, due to open next year, will be able to look after 100 seals a year.
Too young
Colin Seddon, centre manager of the Scottish SPCA's Middlebank Farm in Dunfermline, said: "This has been our busiest year caring for harbour seals.
"Last year we cared for 15 harbour seals and we've already cared for 23 this year.
"Most of the seal pups that come into our centre have been orphaned or injured and are too young to survive by themselves.
"We rehabilitate them at the centre until they are strong enough to be released."
He also called for people to donate paper towels and old towels, which the charity uses to care for the young seals.