Lisa Hedley sentenced for £100,000 Western Toyota theft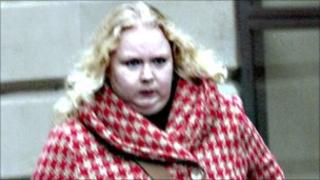 A Fife woman who embezzled £100,000 from her Edinburgh employers has been ordered to carry out 300 hours of community service.
Lisa Hedley, 36, admitted embezzling the cash from Western Toyota in Edinburgh and spending the cash on treating her family.
Hedley pled guilty to taking the money between April 2006 and May 2009 at the car dealer in Sighthill.
Edinburgh Sheriff Court heard how her scam went undetected for three years.
The court heard Hedley, from Dunfermline, carried out the offence because she had low self esteem and was suffering from depression.
She was taking cash deposits customers paid to her for new cars and adjusting records to show that accounts had been credited.
Fiscal depute Dev Kapadia said: "She had worked in various capacities by promotions and was due to receive a further promotion prior to the discovery of this incident.
"The embezzlement was discovered by chance by an auditor."
The court heard Hedley was on a salary of about £22,000 but boosted her income with more than £25,000 annually.
Felt isolated
Defence agent Ewen Roy said Hedley had been diagnosed with serious depression following the death of her grandmother in 2005, who had been her main family contact.
He said: "One of the reasons her work did not suspect her is she did not show an extravagant lifestyle.
"What seems to have happened is in order to maintain links with other family members she bought their affection originally from her own salary and then by committing the offence. She had felt isolated."
The case was previously deferred for her to pay compensation, which she has now done the court heard.
She has also sold her home to pay back the cash.
Sheriff Alistair Noble told Hedley: "It is embezzlement of a significant sum of money from your employers and you will appreciate it is a serious offence."