Pair of hit-and-run cats rescued from Fife road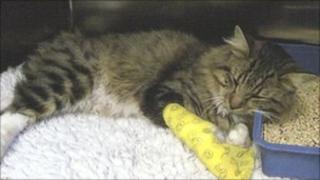 Two cats have been rescued after they were both hit by cars on a Fife road.
The cats were seriously injured when they were struck by a car or cars on the B981 Crossgates to Cowdenbeath at Woodend Industrial Estate, Cowdenbeath.
They were both hit near the garage on Friday night. A young, black short-haired female suffered a fractured pelvis and a ruptured abdomen.
She was discovered lying at the side of the road by a member of the public at about 20:00.
A passerby then saw a second cat, a semi-long-haired tabby and white male being hit by a car in the same area at about 21:30. He has a fractured pelvis and jaw.
Scottish SPCA Inspector Nicola Liddell said: "These incidents were unusual because the two cats were hit on the same stretch of road and within a relatively short space of time of each other.
"I immediately took the cats to the vets for treatment.
"They have both undergone surgery and thankfully they appear to be making a good recovery.
"The little black female remains at the vets for now, but the male cat has had his jaw wired and is now being made comfortable at our Edinburgh and Lothians Animal Rescue and Rehoming Centre.
"The cats are both very well natured so they are clearly much loved pets.
"We're keen to reunite them with their owners who must be missing them."
Anyone who knows who the cats' owners are being asked to contact the Scottish SPCA.