Lee Peattie jailed for St Giles' rampage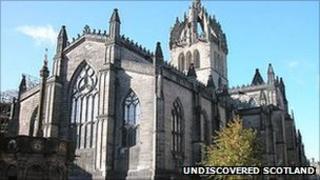 A man who went on a £12,000 smashing spree inside St Giles' Cathedral in Edinburgh has been jailed for three and a half years.
Lee Peattie, 34, went on the rampage inside the historic church in June 2011, the city's Sheriff Court heard.
Peattie smashed up 10 wooden chairs before throwing them through two stained glass windows.
He also damaged a stone which marked the life of great Scots reformer John Knox.
He was heard shouting and screaming incoherently as he caused £12,000 of damage to the place of worship.
His behaviour caused tourists to flee the church for their safety.
The police officer who came to arrest Peattie feared so much for his safety that he pulled out his truncheon in the church.
However, PC Craig Darling, 36, managed to apprehend Peattie without having to use the weapon.
Peattie was convicted on breach of the peace and malicious damage charges on Wednesday.
He had chosen to defend himself after dismissing his legal team.
'Lost the plot'
During a day long trial, the court heard from Lynne Isharwood who was holidaying in Edinburgh from her home in Manchester.
Ms Isharwood, 52, a carer, said she was "frightened" and "wary" at seeing Peattie's rampage at the church's Holy Cross aisle.
She said: "I was just about to say my prayers when I heard two loud bangs that got my attention.
"There was a male in the little chapel. He was banging stuff on the floor and throwing stuff at the window. He was throwing pieces of wood through the stained glass windows.
"I was frightened and a little bit wary. He seemed to be muttering. He didn't appear to be in his right mind."
Kevin Hall, 45, who works in the shop at St Giles', said: "Some American ladies ran into the shop for safety. A lot of people ran out of the cathedral. They were scared."
Passing sentence Sheriff John Horsburgh QC said he had no other option but to impose a custodial sentence.