Lothian and Borders Police add electric cars to fleet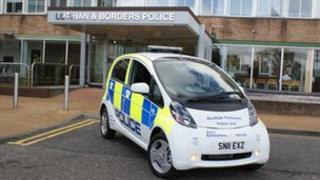 Lothian and Borders Police have bought two zero-emission vehicles as the force pilots research into a more eco-friendly fleet.
A patrol car at the Scottish Parliament and a fleet van have been replaced by a Mitsubishi I-Miev and Ford Connect Electric.
Police said more vehicles could be replaced if the pilot was successful.
Police estimated that over five-years the van will save more than 1.5 tonnes of CO2 and reduce fuel costs.
The van is capable of travelling 80 miles (129km) on a single charge and can carry about 500kg (1,102lb).
Dave Kennan, Lothian and Borders Police's fleet manager, said: "As a large organisation that regularly uses a range of vehicles as part of our operational duties, it is prudent for us to research investments, which not only benefit the force financially, but can have significant benefits for the environment.
"The knowledge we will gain from this trial should benefit not only ourselves but other organisations looking to utilise this technology further.
"Both the electric van and the patrol car will now be in full operational service and will have an impact on our carbon emissions and our fuel expenses.
"If this pilot is successful and the vehicles prove themselves to be fully capable for policing duties, we will of course look to invest further and replace more of our fleet with carbon neutral alternatives."