Trees planted in Edinburgh for Kenyan activist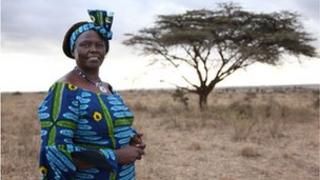 A tree-planting ceremony has been held in Edinburgh in memory of Nobel Peace Prize winner and environmental activist Wangari Maathai.
About 60 people took part in the event in Figgate Park, Duddingston.
It was organised by admirers of Ms Maathai, who died in Kenya aged 71 in September.
Ms Maathai founded the Green Belt Movement, an environmental group focused on environmental conservation and women's rights.
The event - called 'A tree for Wangari Maathai' - was supported by Edinburgh City Council, who provided 50 oak and beech saplings and space to plant them.
The ceremony followed a Facebook campaign launched by Edinburgh social worker Mary Njoki.
In 2004, Ms Maathai became the first African woman to receive the Nobel Peace Prize for "her contribution to sustainable development, democracy and peace".
She was an elected member of the Kenyan parliament and served as Assistant Minister for Environment and Natural Resources in the government of President Mwai Kibaki between January 2003 and November 2005.
Among numerous awards, she was granted the Edinburgh Medal by the Medical Research Council in Scotland in 1993.
Ms Njoki said Ms Maathai had been a great inspiration to her from a young age.
She said: "Wangari Maathai has inspired many people from all over the world in planting billions of trees and millions in Kenya.
"Her passion of the environment has led her to be labelled 'mad', publicly beaten, imprisoned and humiliated but she never gave up.
"She fought really hard to save the equivalent of Kenyan's Hyde park from private contractors who were to build a 60-storey building and she also opposed the privatisation of Karura forest - one of the main forests in Nairobi.
"She also joined women on hunger strike to have their sons who were political prisoners released."
She added: "I decided the best way to remember her was getting my friends and their friends from all over the world to plant trees in her memory wherever they are."