Haemorrhage woman in blood appeal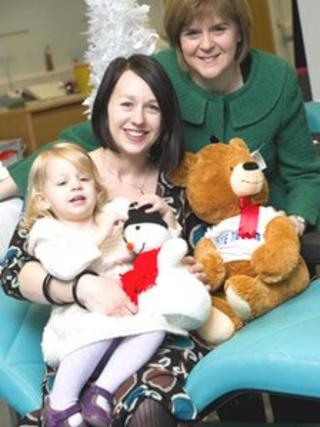 An Edinburgh woman who haemorrhaged three times her body's blood volume after giving birth to her daughter said it was "a miracle" she survived.
Fiona Christie, 34, had blood products from 88 donors after her daughter Rosa was born in November 2009.
She is now appealing for new lifesaving donors to come forward and give blood over Christmas.
The Scottish National Blood Transfusion Service said new donors last year fell by 10,965, compared with 2008.
Mrs Christie met Health Secretary Nicola Sturgeon at the Blood Donor Centre in Glasgow's Nelson Mandela Place to launch the campaign.
'Never forget'
The Scottish National Blood Transfusion Service (SNBTS) said fewer young people have donated blood in the last three years, despite 17 to 21-year-olds being the group most likely to register.
At least 40% of new donor registrations were of this age group, but almost a quarter (24%) have not yet given blood.
Mrs Christie, whose daughter Rosa was born on Friday 13 November, 2009, said: "Immediately following her birth I suffered a massive haemorrhage.
"In total I bled for almost seven hours, losing three times my whole blood volume."
She said: "It is a miracle that I am alive. My doctor told me that I had suffered one of the worst bleeds after giving birth seen in recent years.
"I received blood products from 88 donors including red cells, fresh frozen plasma and platelets.
"Particularly at this time of year, I think about those 88 people who saved me."
"Without them, my beautiful little girl Rosa would be growing up without her mummy, and I think of all of the Christmas times we would have missed together," added Mrs Christie.
"The people who gave blood may not remember what they did for me but my family and I will never forget their actions."
'Wonderful people'
Keith Thompson, national director of SNBTS, said: "Fiona's story of survival shows how important blood donors are.
"We need more young donors to establish this life-saving habit and are asking them to give four donations in the first two years after registering.
"If you have never given blood or haven't given in a while, we ask you to join the 88 wonderful people who helped save Fiona and give the gift of life this Christmas."
Ms Sturgeon said: "We know that the number of blood donors can often drop over the Christmas period but the need for blood does not.
"That's why we need more young donors to come forward over the next few weeks and also to continue to donate."