Tourist tax plan for Edinburgh hotels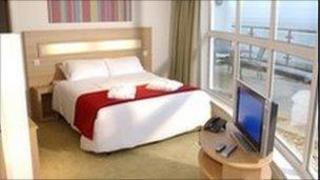 Visitors to Edinburgh could face a "tourist tax" on hotel accommodation after councillors agreed in principle to revenue-raising plan.
It is estimated that the council could raise up to £10m a year by charging between £1 and £2 per room each night.
The Edinburgh Hotel Association said the proposal was unfair as it only targeted accommodation.
If formally adopted, Edinburgh would be the first place in the UK to levy the charge on visitor accommodation.
The city council was told similar schemes were in place in the US, other parts of Europe and some major tourist destinations such as Vancouver.
Green councillor Steve Burgess, who argued for the charge, said it was "unlikely to discourage visitors or affect the hotel trade".
But the city's Liberal Democrat-SNP administration said the Scottish Parliament might need to legislate for the tax.
The council's policy and strategy committee called for a report to explain the legal position before giving the plan further consideration.
As well as looking into the formal levy, councillors will also explore a potential voluntary scheme.
Colin Paton, chairman of Edinburgh-based Portland Hotels and chairman of Edinburgh Hotels Association, said the charge would put the capital at a competitive disadvantage.
In a submission to the council, he said: "Despite the desperate economic conditions, Edinburgh has to date had a very resilient hotel industry.
"As we are about to enter the pan-European, global double-dip recession and what has been described economically as the lost decade, we must protect the industry and certainly not kill the goose laying the golden eggs for the city."