Third vehicle hit by object thrown from Lothian bridges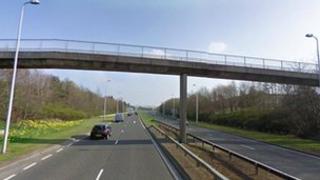 A van's windscreen was smashed when an object was thrown from a bridge in West Lothian onto a road for the third time in four days.
The incident took place at 16:50 on Tuesday when an ice ball was thrown from a bridge near the Lizzie Brice roundabout in Livingston.
It smashed the windscreen of a Vauxhall Movano van.
Two vehicles had previously been damaged when they were hit by objects thrown from another bridge over the M8.
A van's windscreen was smashed on Monday and a car roof was damaged on Saturday as they passed under the B792 Blackburn to Bathgate bridge in West Lothian.
No-one has been injured in any of the incidents.
Insp Simon Bradshaw of Lothian and Borders Police said the consequences could have been much worse and appealed for information.