Edinburgh shops in under-age cigarettes fine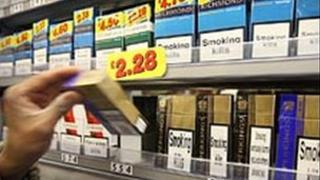 Two shops have been fined by Edinburgh City Council for selling tobacco to under-age children.
Two trained volunteers, aged 16, attempted to buy a packet of cigarettes at various premises across the city.
During these test purchases last month, two convenience stores, in the south west of the city, sold the product illegally to the under-age teenagers.
It is against the law to sell cigarettes to under 18s. The businesses have received a £200 fixed penalty.
If they are caught again they will see an increased fine of £400 and could be stopped from selling cigarettes.
Robert Aldridge, Edinburgh City Council's environment leader, said: "Trading standards officers have been busy visiting shops across the city to remind retailers of their responsibilities when it comes to selling tobacco.
"Retailers generally react well to visits from enforcement officers, and have found their advice useful, but the results of the most recent test purchase exercise are disappointing and highlight the importance of continued action.
"I hope these fines will serve as a stark warning that retailers must abide by the legislation.
"It is important that young people are aware that they will be challenged by responsible shopkeepers if buying cigarettes.
"I would urge the public to contact us with any information about under-age tobacco sales in their neighbourhoods."
Before to the tests, council trading standards officers visit shops and let them know that they will be carrying out checks in the near future and provide information packs on how to comply.