Inquiry call over teen death as James Whitson jailed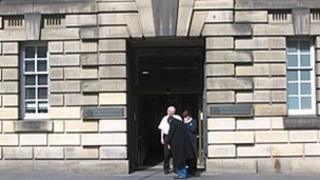 The parents of a teenager who died of a drug overdose have called for an inquiry after watching the man who killed her jailed for 10 years.
James Whitson supplied the methadone which suicidal Vikki McGovern, 19, used to end her life in a hostel in Holyrood, Edinburgh.
In March last year a jury found him guilty of culpable homicide but Whitson, 34, successfully appealed.
Last month, after a second trial, another jury reached the same verdict.
At the High Court in Edinburgh today, judge Lord Pentland told Whitson: "Your conduct involved a great degree of recklessness and irresponsibility and this must be reflected in the sentence of the court."
The judge said the jury had been satisfied Ms McGovern died as a direct result of the methadone supplied by Whitson.
Lord Pentland said: "She was a highly vulnerable and disturbed young woman with pronounced suicidal tendencies, a number of mental health difficulties and a propensity for self-harming."
Ms McGovern, who had already attempted suicide a dozen times, was found dead in her hostel room at St John's Hill, Edinburgh on September 20 2008.
Fingerprints on the methadone containers led police to Whitson.
Outside court, Vikki McGovern's mother Pamela Bowmaker and father Kevin McGovern, both 41, called for an inquiry into what had happened.
Mrs Bowmaker said she had visited the hostel just a week before her daughter's death and complained to staff that things were not right.
She said her daughter was a troubled girl who had been diagnosed as suffering from borderline personality disorder and needed care. Instead she was put in the hostel where she was bullied.
"The hostel was the wrong place for her to stay with people with alcohol and drug problems."
Mr McGovern added: "The hostel has got a lot to answer for. They neglected my daughter."
'Empty inside'
Both parents said they hoped there could be an inquiry now that the court proceedings were over.
But the first target of their anger was Whitson: "He should have been put away for life for taking the life of my daughter," said Mr McGovern.
Mrs Bowmaker said: "It wouldn't matter what he got really, it won't be enough."
She added: "I am empty inside."
It was in St John's that she met petty criminal Whitson who by the time he sold the methadone to Ms McGovern had 47 previous court appearances for a range of offences including theft and violence.
During his trial he claimed he had watered down the methadone he supplied to Ms McGovern, thinking it would do her no harm. He also suggested she could have been given drugs by others.
Defence advocate Dale Hughes told the court Whitson was deeply remorseful over the girl's death.