Robert Graham jailed for Leslie Cumming murder bid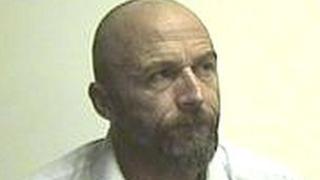 A hitman who was found guilty of trying to kill a senior Law Society official during a "vicious" attack in Edinburgh has been jailed for 11 years.
Robert Graham, 46, denied attempting to murder accountant, Leslie Cumming, 68, but was convicted after a trial.
Mr Cumming, then deputy chief executive of the Law Society of Scotland, was attacked near his Murrayfield home.
He was stabbed repeatedly in the attack on 23 January 2006, which left him with permanent scars.
At the High Court in Edinburgh, judge John Morris QC told Graham: "You were convicted by a jury of a premeditated and sustained murderous attack on a member of the public going about his lawful business and did that apparently for financial gain.
"As I am sure you will appreciate, only a substantial custodial sentence is appropriate."
Mr Cumming was ambushed in a dark lane near his home by a man wearing dark clothing and a balaclava.
A forensic examiner who saw him after the attack noted more than 40 injuries, which had been consistent with a "sustained, frenzied, vicious attack".
The trial heard that Graham later confessed to a workmate that he had "done a judge in" and had been paid £10,000 by a guy in a BMW to give him "a good working over".
Graham fled to Australia after the attack, but was brought back to Scotland to face justice.
He was born in Ireland as Paul Francis McGhee before emigrating to New Zealand at the age of nine, but had assumed a new identity after arriving in Britain 12 years ago.
He was linked to the attack by DNA from swabs which were taken from Mr Cumming's fingers as he lay anaesthetised, waiting for a life-saving operation.
Mr Cumming had grasped the balaclava worn by his attacker as he tried to unmask him during the assault.
Further DNA evidence was recovered from the Barbour jacket he was wearing at the time.
Graham had claimed that he had intervened to stop Mr Cumming taking "a bigger hiding" from another man, but this was described as "utter nonsense" by prosecutors.
The jury convicted him of repeatedly striking Mr Cumming on the head and body with a knife or similar instrument to his severe injury, permanent disfigurement and to the danger of his life.
Following the assault, Mr Cumming said: "I have made a very deliberate attempt just to put myself back together and get on in life."
Det Ch Insp Keith Hardie, of Lothian and Borders Police, said: "While Mr Cumming survived the injuries he sustained following this violent attack, the memory of the incident will continue to stay with him.
"I sincerely hope that he and his family can now put this ordeal firmly behind them as the man responsible for inflicting his injuries begins a lengthy time behind bars.
"Robert Graham believed by fleeing to the other side of the world he would evade justice.
"This is a perfect example of good partnership working and I must give credit to the many agencies across the world who assisted in the complicated process of bringing Graham back to Scotland to stand trial."