Edinburgh tourist tax plan not legal, say ministers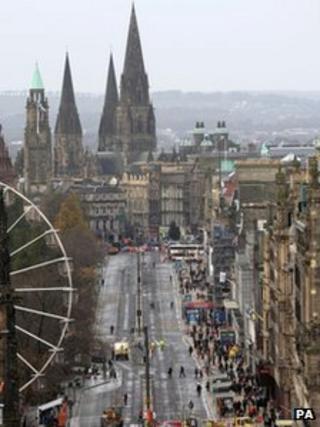 Edinburgh's planned "tourist tax" has been scuppered by the government, after it said the move was not legal.
The Scottish capital's council said it could raise up to £10m a year by charging between £1 and £2 per hotel room each night.
But Tourism Minister Fergus Ewing said there were no plans to give local authorities the powers they needed to introduce such a levy.
Hoteliers said it would put Edinburgh at a competitive disadvantage.
Speaking in the Scottish Parliament, Mr Ewing said: "We have no plans to introduce a bed tax and there are no existing legal powers for local authorities to levy a local bed tax or tourism tax.
"There is a high risk that a visitor levy could damage the industry's competitiveness, especially in the current economic circumstances."
Mr Ewing said price was a key threat to the competitiveness of the UK, adding: "Unfortunately, the UK ranks 135 out of 139 for price competitiveness.
"All but three members of the EU have lowered VAT rates for hotel accommodation. The UK VAT rate for hotel accommodation is high at 20%."
The minister added: "Some people would say we already have a quasi bed tax and it's called VAT."
Edinburgh City Council's Liberal Democrat-SNP administration had previously acknowledged the Scottish Parliament might need to legislate for the tax.
In 2006, the Scottish Arts Council recommended a "bed tax" as a possible source of extra funding for the city's internationally-renowned festivals.