Captain Scott exhibition opens in Edinburgh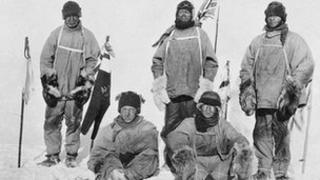 An exhibition honouring Captain Scott's fateful Antarctic expedition has opened in Edinburgh, almost 100 years to the day after he reached the South Pole.
Captain Robert Falcon Scott and his team arrived at the Pole on 17 January 1912 only to discover a Norwegian flag already planted.
They had lost the race to Roald Amundsen who had beaten them by more than a month.
The exhibition runs at the National Library of Scotland until 25 March.
All five of the British polar party lost their lives to the extreme Antarctic weather on the return journey.
Selfless sacrifice
Some of their bodies, journals, and photographs were discovered by a search party eight months later.
The story of courage, selfless sacrifice and tragedy has captivated generations.
The free exhibition, Scott's Last Expedition, features a variety of material from the NLS collections including a copy of Scott's published diary, photographs of the expedition, letters and newspaper cuttings from the time, some of which are on public display for the first time.
It commemorates all the men of the British Antarctic "Terra Nova" expedition of 1910-13 who found themselves hauling sledges in a race, not of their making, to reach the South Pole.
It was a round trip of 1,600 miles through one of the most hostile environments on earth.
Heinz beans
Paula Williams, the NLS curator who has put the display together, said: "The teams led by Amundsen and Scott ventured beyond the edge of the known world to get to the South Pole.
"This is one of the great stories of human endeavour and endurance, triumph and tragedy.
"Our display celebrates their achievement and, we hope, provides an insight into how it was planned and conducted and how it has been viewed both by people at the time and in succeeding decades."
Documents on display show the struggle to raise the money for the expedition which had to be funded privately.
Companies such as Fry's chocolate , Huntly and Palmer biscuits and Heinz beans provided sponsorship as they could see benefits in having their products associated with such an endeavour.
The diary entries, newspaper cuttings and books written by expedition members tell of the hardships endured and the final tragic outcome in which Falcon Scott, Edgar Evans, Edward Wilson, Henry Robertson Bowers and Lawrence Oates lost their lives.
The display also features a number of memorial postcards of the dead explorers which captured the nation's grief over what had happened.