London 2012: Olympic rings for Hillend at Pentland Hills rejected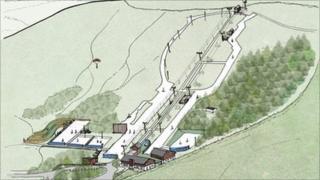 Olympic rings will not be mounted on a hill in the Pentlands beside Britain's longest dry ski slope.
Hugh Robertson MP, Minister for Sport and the Olympics, said the Olympic body did not have the budget to build the scale of rings big enough to be seen.
It follows a plea from Midlothian's Provost to 2012 Games chief Lord Coe to site the rings at the Midlothian Snowsports Centre at Hillend.
Plans to erect the rings on Edinburgh Castle were thrown out last year.
In his letter Mr Robertson said following consideration of the "helpful and generous suggestion" of locating the rings on the slopes, their budget did not stretch to the scale of rings that would be required to create a great impact along a flight path or from a great distance.
The Minister also raised the question of whether the snowsports centre fulfilled one of the objectives of the programme to install the Olympic rings and Paralympic agitos: "To act as a focal point for games-related activity and celebrations".
Midlothian Provost Adam Montgomery said: "It's a shame that the Olympic rings won't be coming to Midlothian Snowsports Centre.
"However there has been such a strong, positive response from the public I'm suggesting we consider an alternative installation up at Hillend.
"For example something which promotes both Midlothian and the Snowsports Centre.
"I'm still looking forward to the Olympics as the build continues, particularly with the Torch Relay coming through Midlothian in June."
It comes as the ski slope is set to have a £500,000 revamp including an extra 210-metre piste and a new nursery slope.
It will also have new, safer ski matting at its existing nursery slope, snowtubing runs and two new lifts.
Sportscotland, the national agency for sport, has provided the funding.
The centre had been threatened with closure after Midlothian Council said it could no longer afford to fund it.
Last year Sportscotland and the Scottish government stepped in with £1m of funding to secure the site's future.
The fight to save the centre, also known as the Hillend ski slope, was the focus of an internet campaign supported by more than 27,000 people.