Former Midlothian MP Alex Eadie dies aged 91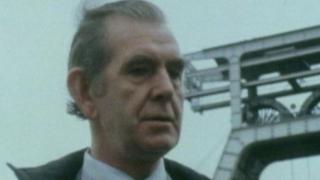 The former MP for Midlothian, Alex Eadie, who was energy minister in Harold Wilson and Jim Callaghan's governments has died at the age of 91.
Born in 1920, he attended Buckhaven High in Fife where he also became a councillor.
He was elected as Midlothian MP in 1966 and retired in 1992.
Labour MP and former Prime Minister Gordon Brown said: "This is very sad news. Our thoughts are with all of his family".
He added: "Alex served diligently both as a Fife councillor then as a much-loved MP for Midlothian for almost a quarter of a century."
Scottish Labour Leader Johann Lamont said: "Alex Eadie was a great socialist, co-operator and Member of Parliament for Midlothian.
"Starting out as a miner, he was a mainstay of the National Union of Mineworkers before being elected to local government in Fife and then going on to be the MP for Midlothian.
"He served in both the Wilson and Callaghan Governments but his first priority was always those of his constituents.
"He will be remembered very fondly by the Labour colleagues who always respected his sage advice and down-to-earth manner.
"Even in his later years he remained an enthusiastic and passionate political debater and fan of his football team, East Fife.
"Our thoughts are with Alex's family and friends at this time."