Turtles dumped in freezing cold conditions in Broxburn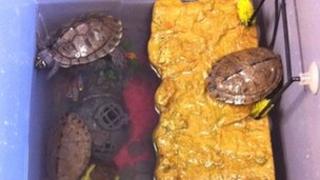 Four exotic turtles are recovering after being abandoned as temperatures dropped below freezing.
The Mississippi map turtles - named John, Paul, George and Ringo - and their tank were dumped in Broxburn, West Lothian.
Temperatures in the area dipped as low as minus 6C overnight, but the turtles are more accustomed to a climate of about 26C.
They are now recovering at the Scottish SPCA centre in Balerno, Edinburgh.
Insp Jenni Surgeon, of the Scottish SPCA, said: "Whoever did this had no concern for their welfare.
"We don't know how long the turtles had been outdoors for but clearly it's very cold right now and these are exotic creatures used to temperatures of 80 degrees or more.
"We are seeing an ever-increasing number of unwanted and abandoned reptiles coming into our care and it's becoming a real concern for us."
'Very sad'
She said exotic creatures needed substantial care, including both set-up and maintenance costs.
"Over time they can be costly pets to own and it's becoming more common for people to simply dump them on the streets when they've had enough," she added.
"It's very sad."
More than 100 unwanted exotic creatures were taken in by the animal charity last year.
In 2011, Scottish SPCA centres cared for 48 reptiles, 43 snakes, seven amphibians and three arachnids by the end of November.
They were either found abandoned or handed in as unwanted.