Fife fire service cuts 'may increase risk to communities'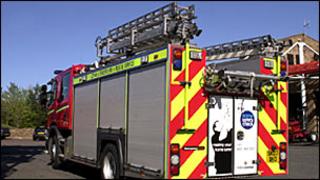 Scotland's public spending watchdog has warned a fire brigade that further budget cuts could increase the risk to local communities.
Fife Fire and Rescue is facing spending reductions of about 4% in each of the next three years.
The Accounts Commission says the fire service, funded by Fife Council, has already made significant savings.
Now it is facing further reductions in its workforce and potential staff rota changes.
The watchdog notes that, unlike other brigades across Scotland, Fife is already finding it difficult to maintain standard crewing levels on its fire engines.
A total of 15 firefighters were transferred to neighbouring services to avoid redundancies.
The commission said: "It is difficult to see how further savings can be achieved without the potential for some increase in community risks."
Fife Fire and Rescue said it would continue to do all it could to ensure it maintained a high quality service.
Chief fire officer Neil McFarlane said: "I welcome this report, which recognises that Fife Fire and Rescue Service has clearly demonstrated again that it is a top-performing service within Scotland."