Parade will make Edinburgh Festival return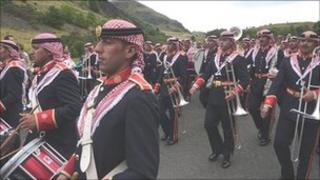 A plan has been unveiled to bring a parade back to Edinburgh city centre during the festival season, after last year's Cavalcade was cancelled.
However, if councillors give the go-ahead next week, the event would be held almost two weeks before the start of the Fringe.
It is proposed the "carnival" will kick off the Edinburgh Jazz and Blues festival on Sunday 22 July.
In the past few years the cavalcade had been held in Holyrood Park.
This was because of tram works in the city centre.
Under new plans the parade will travel along Princes Street for the first time in four years.
Steve Cardownie, Edinburgh City Council's festival and events champion, said: "The Festivals Cavalcade has been a much-loved event for years and it is fantastic that we can announce, with Edinburgh Jazz and Blues Festival, that a similar event will be returning to the city's streets this summer.
"Though full details are still yet to be announced, I am sure it will be a superb event and a great way to kick-off this year's festival celebrations."