Susan Boyle promises Lenten treats ban on pancake day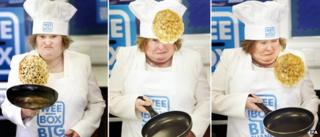 Singer Susan Boyle has donned her chef's hat and cooked pancakes at an Edinburgh high school.
The Britain's Got Talent star joined St Augustine's students to take part in the Scottish Catholic International Aid Fund's (Sciaf) Lenten charity event.
It raises money each Lent to help tackle poverty in places like Africa.
Boyle said she would be giving up chocolate during the six-week period of Lent when Christians are encouraged to abstain from their favourite treats.
Sciaf's "wee box" campaign has been supported by other Scottish celebrities, including actor Robert Carlyle, entrepreneur Michelle Mone and Old Firm managers Neil Lennon and Ally McCoist.
Boyle said: "Sciaf and its work with people living in poverty in developing countries is really close to my heart and always has been. I'm happy that I'm now in a position to help them more than I used to be able to.
"It's going to be really tough giving up chocolate for Lent again, so it was great to tuck into a small feast with the young people today.
"It's been great fun and I know every penny raised from the Wee Box, Big Change campaign will help people in need."
Difficult environments
Sciaf said the money raised would provide seeds, tools and training for farmers, and education and skills training to people in some of the poorest countries in the world.
Scotland's Catholic Cardinal Keith O'Brien, who is the Sciaf's chairman, said: "Sciaf works in some of the most serious and difficult environments in the world but that doesn't mean you can't have a lot of fun raising funds to support its work.
"Today's launch with Susan and the marvellous young people of St Augustine's will hopefully inspire more people to join the campaign and give up a wee treat during Lent."
The charity said about a billion people in the world go hungry every day.
Meanwhile, a religious art festival has been launched in Glasgow for the lead-up to Easter.
Lentfest features performances, displays and talks by artists and academics at locations across the city.
Central to the festival is the work of painter Peter Howson. His depiction of Saint John Ogilvie inspired a theatre production which will run throughout the festival.
He said: "I'm involved in this festival because I love the idea of all religious art, not just painting. For me it is one of the most important things for opening up a new way of thinking for many people in the street.
"I feel like an evangelist in some ways, in that I try to get people to come to some kind of faith through my art."