Siddique murder trial: Brother and two men convicted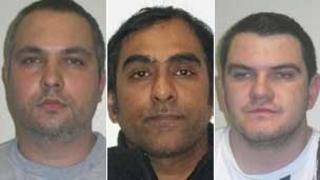 A millionaire Fife businessman has been convicted of murder after hiring Bulgarian hitmen to kill his brother.
Businessman Toby Siddique was shot dead in Glenrothes on 24 October 2010.
His brother Mo Siddique, 42, was found guilty of his murder. Co-accused Tencho Andonov, 28, and Deyan Nikolov, 27, were also convicted of murder.
The court had heard how it was Andonov who pulled the trigger. He and fellow Bulgarian national Nikolov had been hired by Mo Siddique.
Andonov was also convicted to attempting to murder David Dalgleish, who was injured in the attack.
They will all be sentenced at the end of March.
Millionaire Toby Siddique was said to have been lured to the flat with the promise of cheap contraband cigarettes and alcohol after the brothers fell out in an argument over the family business.
He was shot in the face, and again as he lay on the ground.
Andonov then turned his weapon - either a CZ83 of Czech origin or a Russian-made Makarov - on former security man Dalgleish, who was the only witness.
Dalgleish survived the shooting.
The trial heard about years of feuding between the Siddique brothers over their tangled business interests, especially their property company which let out hundreds of homes in Glenrothes and Kirkcaldy.
Advocate depute John Scullion, prosecuting, described "a bitter and destructive relationship" and "a power struggle."
Mr Scullion told the trial: "Mo hated his brother and wished him dead and, motivated by greed and hatred he began to plan the murder of his brother."
Mo Siddique and Nikolov, who worked as a bouncer at a nightclub owned by Siddique, persuaded Andonov to carry out the assassination in return for £18,000, which was paid into his sister's bank account.
The jury at the High Court in Edinburgh returned their verdicts on Wednesday afternoon after more than eleven hours of discussion spread over three days.
The four-month murder trial had been one of the longest-running in recent Scottish history.
David Green, the area procurator fiscal for Fife, welcomed the jury's guilty verdicts.
He said: "This is a crime motivated by greed. A tragic case of brother turning against brother and of a price being put on the victim's life.
"No violent act should go unpunished and no-one who kills for reward should be allowed to escape justice. Today Andonov, Siddique and Nikolov have rightly been found guilty for their despicable crimes.
"Today's conviction is testament to the close co-operation between officers from Fife Constabulary and the Crown Office and Procurator Fiscal Service.
"This was a very complex case, the successful prosecution of which reflects dedication and effective communication by staff across both organisations."
The convictions brought to an end the largest and most complex investigation in Fife Constabulary's 62-year history.
Det Supt Colin Beattie, who was in charge of the case, said that at one stage about 80 of the force's 1,400 staff were involved in the investigation, which it in excess of £1.4m.
He said: "This was a large and extremely complicated investigation, where the identity of the perpetrators was not immediately known.
"This required our staff to engage and work with other law enforcement agencies and partner organisations across the United Kingdom and beyond. The securing of evidence in this case presented unique challenges to us, which we overcame through the skill of our committed and dedicated workforce and the assistance provided by our colleagues in the Crown Office and Procurator Fiscal Service and other police areas.
"Thankfully such crimes are extremely rare in Fife. However, these convictions show that, whatever the gravity and magnitude of the crime, police officers and staff of Fife Constabulary, alongside our partners, have the structures and processes in place to respond effectively.
"Finally, I would like to thank the diverse range of communities in Fife for their help and support in solving this case. Various nationalities and cultures cut across the entire investigation and our staff received cooperation and assistance from all concerned."