Suzanne Pilley murder accused David Gilroy 'misled his wife'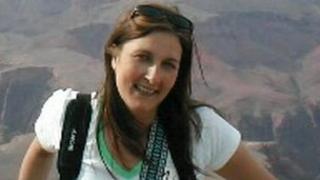 The man accused of murdering Suzanne Pilley told police he misled his wife about his relationship with the missing book keeper, a court has heard.
David Gilroy admitted cheating on his partner Andrea when he spoke to police two days after Ms Pilley disappeared on her way to work in Edinburgh.
The High Court in Edinburgh heard Gilroy made the admission during an 11-hour interview with police.
Mr Gilroy denies murdering Ms Pilley on 4 May 2010.
The court heard Mr Gilroy had gone to police after spending part of his day in Lochgilphead, Argyll.
Sgt Paul Grainger told prosecution lawyer Alex Prentice QC he interviewed Mr Gilroy at Corstorphine police station in Edinburgh shortly after midnight on 6 May 2010.
The officer said Mr Gilroy admitted to him that he had previously told his wife was working when he was actually seeing Ms Pilley.
Number of injuries
Mr Gilroy told Sgt Grainger he began having a relationship with Ms Pilley after getting to know her while doing odd jobs around her flat in the capital's Whitson area.
The court also heard that Mr Gilroy's wife discovered his relationship with with Ms Pilley, and that this prompted him to move in for a time with the book keeper.
However, the relationship ended and he returned to live with his family.
Sgt Grainger also said he noticed Mr Gilroy had a number of injuries during the interview.
He told Mr Prentice: "I noticed a scar on his forehead under his hairline. There may have been some sort of scratch to his neck under his chin."
Text message
The trial later heard that Mr Gilroy had spent the evening of Sunday 2 May with Ms Pilley.
They had agreed to split up and took part in a Buddhist style religious ceremony in woodland, writing their feelings down on pieces of paper before burning them.
They then spent the night together at Ms Pilley's flat - but did not have sexual intercourse. His statement said he left the following morning and returned home to be with his wife.
Mr Gilroy said that he received a text message from Ms Pilley which accused him of being a game player.
He said the last time he ever communicated with her was when he sent a text message on Monday morning which read: "I will always love you."
Mr Gilroy, of Silverknowes, Edinburgh, denies a total of five charges which allege he committed a series of criminal acts across Scotland between August 2009 and June 2010.
The trial before Lord Bracadale continues.