Suzanne Pilley feared murder accused David Gilroy read emails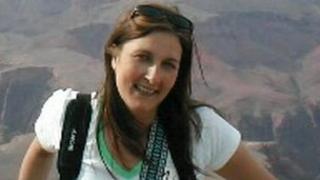 A friend of missing book keeper Suzanne Pilley has told a court how the divorcee feared her lover was reading her emails.
Gayle Ann Hawkins, 42, told the High Court in Edinburgh Ms Pilley, 38, was worried David Gilroy, 49, was hacking into her Hotmail account.
Ms Hawkins also said Ms Pilley had told her Mr Gilroy had accused her of seeing another man while she dated him.
Mr Gilroy denies murdering Ms Pilley in May 2010.
Phone records
The trial also heard that Mr Gilroy sent more than 400 texts to his alleged victim in the month before her disappearance.
Phone records produced in court showed Mr Gilroy was in contact with Ms Pilley almost every day, but that it stopped the day she went missing.
The court was shown a record of the calls made from Mr Gilroy's mobile phone to Ms Pilley's from 12 April 2010 until 9 May 2010.
On one day there were 64 texts and four calls. On another day there were 57 texts and seven calls.
The last contact between the two phones was on 3 May 2010 when he left 15 messages and one voicemail.
Ms Pilley went missing on 4 May.
Giving evidence earlier on Monday, Ms Hawkins, from Edinburgh, told prosecution lawyer Alex Prentice QC she had known Ms Pilley for 25 years before she went missing.
She also said Ms Pilley had started dating David Gilroy in 2009 and that she had met them as a couple on about three different occasions.
Ms Hawkins said Ms Pilley had told her that she thought her partner had been accessing her email account behind her back.
She told Mr Prentice: "She said she had come home one day and saw David on the computer. It was later that she realised that he was looking into her emails."
Ms Hawkins also said Ms Pilley told her Mr Gilroy had accused her of seeing another man called 'Omar' that she had met on holiday.
Ms Hawkins said Ms Pilley and Mr Gilroy had a 'heated' argument over the claim she was seeing another man behind his back.
Ms Hawkins said Ms Pilley had told her that she had split from Mr Gilroy.
She added: "I spoke to her on the Friday before she went missing. She told me she had got through to David that the relationship was finished."
Cleansing agent
Earlier, the trial heard from forensic scientist Kirsty McTurk, 33, who told the court she conducted a DNA search in Ms Pilley's workplace in the days after she went missing.
The Scottish Police Services Authority employee said they were trying to find evidence Ms Pilley had been present in the building.
She also said that she had conducted a forensic search of Mr Gilroy's car boot.
However, scientists were unable to find any DNA evidence the book keeper had been in either the boot of the car or the parts of the building that had been searched.
Miss McTurk said when she opened the boot to Mr Gilroy's car in the days following Ms Pilley's disappearance, she noticed a "fresh smell" coming from inside.
She told Alex Prentice QC the smell could have been either "air freshener" or a "cleansing agent."
Mr Gilroy, from Silverknowes, Edinburgh, denies murdering Ms Pilley by means unknown to the prosecutor in Thistle Street, Edinburgh, or at another location in Scotland on 4 May 2010.
He has also pleaded not guilty to four other charges which allege he committed a series of criminal acts across Scotland between August 2009 and June 2010.
Prosecutors allege between 24 August 2009 and 30 April 2010, at various Edinburgh addresses, Gilroy illegally accessed Ms Pilley's email account, contrary to section one of the 1990 Computer Misuse Act.
The trial before judge Lord Bracadale continues.