Cadaver dog searched Suzanne Pilley's office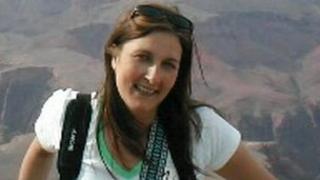 The Suzanne Pilley murder trial has heard how a police dog specially trained in finding dead bodies searched the Edinburgh office where she worked.
The dog identified several areas in the Thistle Street basement and the underground car park, the court heard.
The dog's handler said they searched the premises five days after she disappeared on 4 May 2010.
David Gilroy, 49, from Edinburgh, denies murdering Ms Pilley, 38, in Thistle Street or at another location.
The police dog used in Ms Pilley's office previously found a dead body in nine feet of water, the High Court in Edinburgh heard.
'Positive indications'
PC Simone Thompson, 44, told the court that a Springer Spaniel called Buster was used in a search of Suzanne's workplace at IML in the city's Thistle Street.
The animal, which belonged to South Yorkshire Police, was trained to smell for human remains and blood.
PC Thompson said the dog gave "positive indications" of a smell of decomposing human remains or blood in the building which housed IML during the probe.
The court earlier heard that Mr Gilroy's car was seen on CCTV in Inveraray and Tyndrum in Argyll on 5 May 2010.
The sightings were two hours apart, although the court was told that the journey would normally take 40 minutes.
On Monday, the trial heard that Mr Gilroy sent more than 400 texts to Ms Pilley in the month before her disappearance.
Phone records produced in court showed that Mr Gilroy was in contact with Ms Pilley almost every day, but that the contact stopped the day she went missing.