Simon Brown and Paul Banks admit John Carter Leith lift killing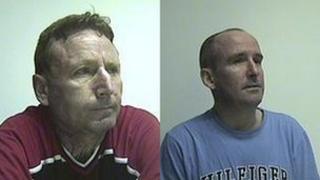 Two men have admitted killing a 44-year-old man and dumping his semi-naked body in a lift in an Edinburgh block of flats.
Simon Brown, 41, and Paul Banks, 48, dragged John Carter out of a flat in Salamander Court after attacking him.
Originally they were charged with murdering Mr Carter on 26 or 27 February 2011, but admitted a reduced charged of culpable homicide.
Sentence was deferred at the High Court in Glasgow.
They pleaded guilty to placing a pair of handcuffs on his wrists, repeatedly punching and kicking him on the head and body, placing a plastic bag over his head, assaulting him by means unknown to the prosecutor, robbing him of his wallet and contents, placing him in a lift and failing to seek medical attention and killing him.
'Sincere regret'
The court was told Mr Carter was openly gay and began chatting to the accused, whom he had never met before, in the Port O' Leith pub.
Advocate depute Alan Nicol, prosecuting, said: "In the pub Brown was buying drinks for both Banks and Mr Carter.
"Mr Carter confided in the barmaid, with whom he had been friendly for some years, that he was flattered by the attention he was receiving and that Banks had kissed him.
"The previous night Banks had told the barmaid he loved her and asked for a kiss."
The court heard that Banks left the pub alone and Brown and Mr Carter followed a few minutes later.
Mr Carter was heading off to his home at Cable Wynd House, Leith, when Brown invited him to the flat he shared with Banks for a drink.
They arrived at the flat at 23:00. At 03:19 other residents of the block of flats on their way home from a night out saw legs protruding from the lift on the ground floor.
An ambulance was phoned, but efforts to revive Mr Carter were unsuccessful.
Defence QC Ian Duguid, representing Brown said: "My client doesn't have a history of violent offending, but has a long history of dishonesty particularly in England.
"He offers his sincere regret and apologies for what happened that night."
Solicitor advocate John Scott QC, representing father-of-one Banks said: "Mr Banks is also genuinely sorry for the part he played in Mr Carter's death."