Andrew Hutchison fined for killing Holyrood hawk Naph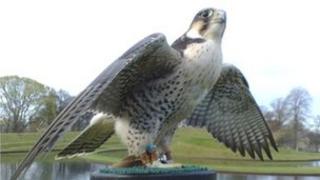 A Fife pensioner who killed the Scottish Parliament's falcon "guard" has been ordered by a sheriff to pay the cost of training a new one.
Andrew Hutchison, 67, a pigeon fancier, was found guilty of killing the bird, called Naph, with an air rifle.
He was fined £350, and ordered to pay £1,500 compensation to Naph's owners, NBC Bird and Pest Solutions.
Naph was one of 25 birds of prey used to keep pigeons away from the Holyrood parliament building.
The peregrine/gyrfalcon cross was also employed to perform similar duties at Hampden Park, Scotland's national football stadium.
Every Sunday, he was taken out for exercise flights at Torryburn in Fife, but last April the falcon was blown off course and landed in a tree in a garden.
When the hawk's handlers went to find him, Hutchison - who kept racing pigeons - admitted he had shot the bird.
The retired miner then drove off with the falcon's body. Police later found the bird's radio transmitter, still attached to one severed leg, dumped in a stream four miles away.
The rest of the Naph's remains have never been found.
Hutchison, of Newmills, Fife, was found guilty after a trial in December of maliciously shooting and killing a working falcon.
He originally denied knowing anything about the falcon, but later claimed to have killed Naph because he was attacking one of Hutchison's racing doves.
Speaking outside Dunfermline Sheriff Court after appearing for sentence on Wednesday, Hutchison said: "I'm a pensioner. The fine and compensation is going to cripple me."