Cockenzie coal-fired power plant to close next year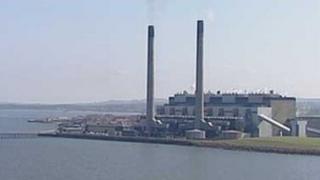 Scottish Power is to close its coal-fired power station at Cockenzie next year, BBC Scotland has learned.
The East Lothian plant, which has been powering Scottish homes and industry since 1967, does not meet modern environmental standards.
The company said it hoped to avoid compulsory redundancies among the station's 100-strong workforce.
It is understood that many of the workers will be transferred to Longannet Power Station in Fife.
Cockenzie will close at the end of March 2013.
However, the decision may not mean the end of power generation at the site.
Scottish Power already has planning permission for a new gas plant and the company said it was continuing to evaluate its options for Cockenzie.
Neil Clitheroe, Scottish Power Generations chief executive, said: "For over 40 years, the skills and experience of the team at Cockenzie has ensured that the station operated in a flexible and reliable manner.
"Their hard work and dedication throughout these years has enabled the station to operate for more than 20 years beyond its design life."
In April 2011, the company decided to halve the station's output to 550MW from April 2012, a measure designed to manage its remaining hours.
Emissions
European law designed to reduce emissions from power stations would have forced Cockenzie to close by December 2015.
Scottish Power Generation has stressed that work is likely to be available for many of those currently based at Cockenzie.
Mr Clitheroe added: "We will be working very closely with all employees at Cockenzie in the coming months and we are hopeful that alternative employment can be offered to all staff who wish to stay within the company."
The Scottish government said the closure was anticipated with the Electricity Generation Policy published last week.
A spokeswoman said: "In October last year, Scottish ministers granted consent to Scottish Power to build a new gas plant at Cockenzie.
"This will be a worrying time for those employed at the plant and their families, and we are pleased to hear that Scottish Power are intending to make every effort to offer alternative employment to those employees who wish to stay with the company and our public agencies stand ready to help where we can."