Ashes spill out of charity vase donation in Bonnyrigg shop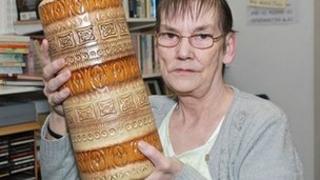 A Midlothian charity shop volunteer has told how ashes apparently from a cremation fell out of a vase that had been donated.
Lena Skilbeck, 60, chairwoman of the Arthritis Research Campaign shop in Bonnyrigg, scooped up as much of the ash as she could.
She then vacuumed up the rest before calling a local undertaker.
The ashes are now being tested to see whether they are human or from an animal.
They will remain at Barclays Funeral Services in the town until they are claimed.
Ms Skilbeck told the BBC Scotland news website the ashes were the most unusual donation she had received in the 17 years she has worked in the shop.
She said: "There were three separate women who had handed in donations that morning, so it was one of them, but we weren't paying attention as we were busy, so we didn't see who they were.
"I saw the vase and immediately thought it was valuable because we had received a similar one the week before and we had researched up on it.
"So one of my colleagues was checking underneath it to see if it was indeed another vase from Germany when a wee bit poured out."
Ms Skilbeck said she realised straight away what the ashes were, adding: "I thought someone must have handed them in by mistake so I scooped what I could into a bag and then Hoovered up the rest.
"I left the ashes in a bag in the back of the shop but the other volunteers were getting uncomfortable about them being there, so after about a week I called the funeral parlour.
"I really hope someone claims them. The lady from the funeral parlour said she thought there was only about a third of what should have been there, however I thought there was quite a lot."
Arlene Newbigging, Barclays Funeral Services funeral service arranger, said they would know by next week if it was a pet or human ashes.
She said: "They went away for testing on Wednesday. There was not as much as I would expect so they could be a pet, however they could also be human as sometimes families split them between themselves so that's why there would only be half in the vase."